Suffolk council takes 21 months to change a light bulb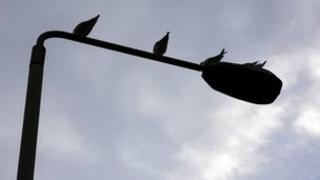 A council has apologised for taking nearly two years to change a light bulb in a lamppost, admitting it was an "extraordinarily long time to wait".
Some residents say they have been "too scared" to walk down a footpath in Lowestoft as a result.
Lesley Lister said the light on a public footpath was first reported to Suffolk County Council in August 2011.
Suffolk County Council apologised but said it was "cost-effective" to wait for more than one lamp to be repaired.
The path runs between Rosewood and Homefield Avenue, and the light is at the junction of three footpaths.
Fixed within days
Mrs Lister said the fault had been reported five times.
"On dark evenings some people were avoiding going down there as they were too scared," said Mrs Lister, who lives nearby. "They could not see people coming."
A spokeswoman for Suffolk County Council, which maintains street lights, said workers usually waited for more than one lamp to need fixing as it was "more cost-effective".
"However, we recognise that 21 months is an extraordinarily long time to wait," the spokeswoman said.
"We apologise for the delay and will ensure the light is fixed within the next few days."