Suffolk sex offender's teacher mother gets £28k for unfair dismissal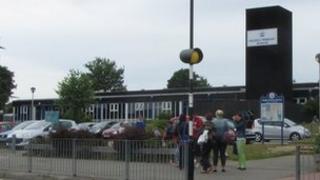 A teaching assistant sacked from a Suffolk school for keeping in touch with her convicted sex offender son has been awarded £28,000 by a tribunal.
Tracy Hodgkinson, 47, lost her job at Halifax Primary School in Ipswich in January last year.
She claimed the school was determined to get rid of her after she informed them of her son's arrest. The tribunal ruled she had been unfairly dismissed.
The school said it was disappointed its decision had not been upheld.
Mrs Hodgkinson's son was jailed for two-and-a-half years in May 2010 for grooming and sexual activity with a girl under the age of 14. He was 18 at the time.
'Unfairly treated'
She informed the school about the case, but said she wanted to maintain contact with him as she had already lost her daughter Shona to cancer when she was 10 years old.
Mrs Hodgkinson, who had worked at the school in various jobs for more than 10 years, told the BBC she was pleased to have won, but saddened as the publicity surrounding the case has resulted in her son not wanting to talk to her.
She said she took the case to the tribunal as she wanted people to know how "unfairly" she was treated.
But she said the trust between her and the school authorities had "broken down" and she could not be reinstated.
The employment tribunal in December found she had been unfairly dismissed from her post.
In a statement, head teacher Anna Hennell James said: "We are disappointed the tribunal did not see fit to uphold our decision to dismiss Mrs Hodgkinson.
"However we are pleased that the judge agreed with our view that it would be inappropriate to reinstate her.
"Our main priority has always been, and will continue to be, the safety of children in our care."