Benjamin Britten's archive and restored studio opened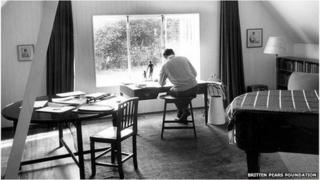 An archive housing manuscripts, letters and photographs belonging to the composer Benjamin Britten has opened.
The archive, and Britten's newly-restored studio, are both housed in the grounds of The Red House in Aldeburgh, Suffolk, where be lived until 1976.
The projects are part of a £4.7m investment in the site, funded by the Britten-Pears Foundation and the Heritage Lottery Fund.
Britten lived in the house with his partner Peter Pears from 1957.
The archive is thought to be one of the most comprehensive collections of any composer in the world, and tells the story of both his creative and personal life.
'Extraordinary spirit'
The facility includes more than 700 pieces of music, about 80,000 letters, personal diaries, and costumes and set designs from some of his works.
Richard Jarman, director of the Britten-Pears Foundation, said: "What we have at The Red House is exceptional - a rich and illuminating collection held in the very place where Britten lived and composed, with all its extraordinary spirit of place."
As well as the archive building, work has been completed on a restoration of the studio in the grounds of the house, where Britten composed works including his War Requiem and A Midsummer Night's Dream.
The original studio was built in a converted hayloft by architect HT "Jim" Cadbury-Brown in 1958.
It gave the composer unobstructed views of the surrounding fields and The Red House itself.
Original Steinway
At the time, Britten said: "I've made myself a nice remote studio where I can bang away to my heart's content."
Until recently it was used as a store room, but much of the material housed there has now been moved to the new archive building.
The restored studio contains Britten's original Steinway piano, artwork, furniture and ornaments from 1958, and is based on Cadbury-Brown's design plans and photographs of the time.
Some of the composer's best-known works include the operas Peter Grimes and Billy Budd, and The Young Person's Guide to the Orchestra.