Independent Villas insolvency: Portuguese holiday agent cancels bookings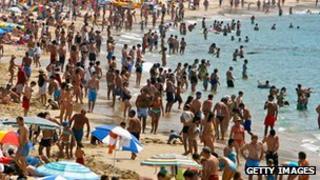 A Suffolk holiday agent is going into liquidation, leaving about 250 people with cancelled trips to Portugal.
Kesgrave-based Independent Villas, which represents 33 villa-owners in the Algarve, is cancelling 60 bookings.
The company got into financial trouble and has called in accountants Larking Gowen to place it in liquidation.
The accountants said people with cancelled bookings would become creditors, but would "probably" lose their money.
The firm was established in 1995 and became a limited company in 2009. It employs two directors and one part-time member of staff.
Salvage attempts
Andrew Kelsall, director of business recovery at Larking Gowen, said holiday-makers had "probably lost their money" and they were trying to contact them.
"The directors have said trading has been difficult with increased competition and reduced margins and they can't continue further," he said.
"The directors approached us two weeks ago and we put forward a proposition to the villa owners to see if we could salvage something, but it's become clear that's not going to work.
"We can't go into the size of the actual debts now, but over the next few days we'll be collating the financial position of the company and at that point we will have more of an idea of the funds that are available for full creditors."
The accountants said people on holiday at the moment would be able to complete their trips.
Customers who have bookings and have paid by credit card should apply to their credit card company to see if they can get a refund.
All other customers will become creditors of Independent Villas Ltd.
Larking Gowen said a meeting of creditors would be held on 2 July to place the company into creditors' voluntary liquidation.