Ipswich stabbing: Man dies and woman injured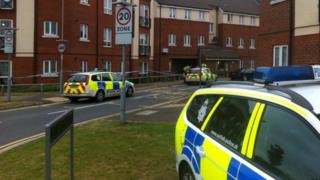 A man has died and a woman has been taken to hospital after a stabbing in a Suffolk town.
The pair were found at a property on Saturn Road, Ipswich, after emergency crews were called at about 02:50 BST.
The man was taken to hospital where he later died. The woman is being treated for leg injuries.
A 37-year-old man was questioned and then taken to Ipswich Hospital under arrest after complaining he felt unwell, Suffolk Police said.
Dafydd Westacott, who lives on the first floor of the block of flats, told how he was woken at about 03:00 BST by the sound of a man groaning on the ground floor and a woman crying.
"I woke my partner up and they were still calling for an ambulance," he said.
"I opened my door and saw paramedics going upstairs."
Another resident said police had been called to the flats on previous occasions but added the area was normally trouble-free.
The 37-year-old man was arrested at the scene on suspicion of murder and questioned at the Martlesham Police Investigation Centre.