Sudbury Town Hall's falling debris work starts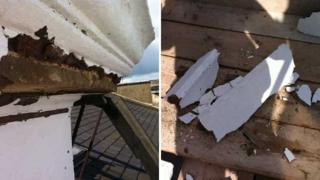 Work is under way to stop chunks of masonry falling from a public building in Suffolk on to the pavements below.
Crumbling cornicing on Sudbury Town Hall began falling 15m (50ft) in February, although no-one was hit.
The town council put up protective sheeting and is now spending £50,000 replacing the cornicing.
Contractor Darren Russell said: "We had to make it safe as a matter of urgency as people's lives were genuinely at risk."
The Grade II listed hall was built in 1840 and the cornicing, which is made of cement, will be rebuilt and have a lead covering put on it.
Sue Brotherwood, town hall clerk, said: "They told us that the whole lot was in danger of coming down, so we're glad we've caught it before anybody was hurt or any damage done.
"We had no choice but to carry out this work as a matter of urgency for the sake of the future preservation of the building and the safety of the public walking below.
"We would just like to remind people the town hall is still open and all usual services are available."
Work is expected to be completed by the end of August.