Suffolk Trading standards cracked £5.7m escort and debt scam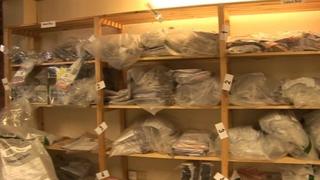 It began as a single customer complaint about being ripped off - nothing out of the ordinary for Suffolk Trading Standards.
A "debt elimination" company had taken an upfront fee, but the disgruntled customer had heard no more and wanted their money back.
"It looked liked a very simple scam; someone had not got what they paid for... but it turned into something much, much larger," said Stuart Hughes, the senior investigating officer.
More than three years later, the £5.7m fraud is the biggest ever investigated by the department and, Mr Hughes believes, one of the biggest of its kind by any trading standards authority in the UK.
Victims were lured by the tantalising promise of having their money worries wiped out in a flash, or by earning seemingly limitless amounts of cash on dates as a "non-sexual" escort.
It led trading standards officers - more used to seizing counterfeit goods and patrolling local car boot sales - on the "extremely rare" path of investigating bank accounts in Spain, applying for European arrest warrants and ultimately bringing a criminal gang to account.
Its ringleader Toni Muldoon, formerly of Kent, had been running various businesses in Spain for years and had already evaded a prison sentence for time-share fraud in the Costa Del Sol.
Companies 'enticed' victims
With the "essential" help of his UK-based co-conspirators, Muldoon's con preyed on vulnerable people in the UK who were desperate for cash.
For trading standards, it soon became clear the debt elimination complaints were linked to reports of several fake websites offering lucrative escort work, again in return for an upfront fee.
Numerous sites, with names like Adorabelles and Delightful Companions, pictured scantily-clad models and good-looking couples.
The promises of huge earnings and even international travel enticed those "desperately looking for work", but dates never materialised, Mr Hughes said.
"They put their faith in these companies, and these companies were very convincing over the phone and encouraged them," he added.
"That enticed them to pay their advance fees, which they were never going to get back."
'Tragic cases'
By its very nature, the debt elimination fraud preyed on people who were already financially vulnerable.
"Some of those cases are tragic," said Mr Hughes.
"Many of them were already in a great deal of debt with their credit cards or loan agreements.
"They were looking for a little bit of hope and ended up in a worse state than when they started off.
"Not only did they lose money they were paying for the service they were not going to have, but they were paying interest on that extra debt."
Reflecting on the case, Mr Hughes added: "This investigation has been absolutely huge.
"We are very proud that we've been brave enough to have a go at this and take a chance on seeing if we could really bring these people to justice.
"Gaining information though letters of request from Spanish authorities and banks, the issuing of European arrest warrants for extradition of people from other countries and hunting down people in other countries by a trading standards department is extremely rare."