Protestors 'will fight' council plan for BT homes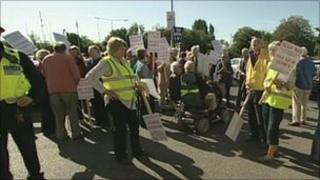 Development plans including up to 2,000 homes near a research park in Suffolk, have been given the final go-ahead by the government's planning inspector.
Suffolk Coastal District Council can now plan in detail for the development near BT's research park at Martlesham, known as Adastral Park.
BT has outline planning permission for the site.
Those opposed say a nearby Area of Outstanding Natural Beauty will be spoilt by the development.
They say they will take their fight to the European Court of Justice.
'Properly researched'
Janet Elliott, chairman of the No Adastral New Town (NANT) group and resident of nearby Waldringfield, said: "The site at BT is within metres of the Deben Estuary Area of Outstanding Natural Beauty, therefore it's going to have a devastating effect on the Deben Estuary.
"We're currently speaking to our lawyer.
"If the lawyers' advice is that in their opinion it still isn't legally compliant particularly with EU legislation, then we will be pursuing a legal challenge, and, if necessary, through to the European Court."
The deputy leader of the council, who is responsible for planning, Andy Smith, said the council had made sure the development plan was "consistent with national policy and has been properly prepared and properly researched."
He said the BT planning application would have to satisfy the council's development plans "with all its modifications and up-to-date government strategy.
"I would be very surprised if we didn't get through that in the next few months," he said.