Suicidal woman 'told to have a cup of tea' by NHS helpline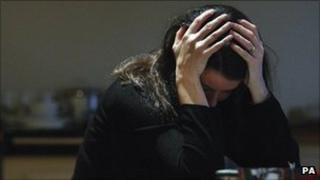 A woman threatening to take her own life said she felt "let down" when an NHS helpline told her to "have a hot drink and watch the television".
The woman, identified only as Sallyann, told the Norfolk and Suffolk NHS Foundation Trust's Crisis Team she had a razor and was "desperate".
"(They) had no idea at all of how to talk to me or what I needed," she said.
The trust said it was sorry if some of its users had not "experienced the sort of care that they would expect".
The Crisis Team aims to provide 24/7 support for people with mental health issues when "normal methods of coping are not working".
'Soothing voice needed'
Sallyann, who is from Ipswich, has had depression for more than a decade but called the support line when she was in "overwhelming emotional pain".
"All I needed was a gentle, soothing voice just to sit with me until the desperateness had passed," she said.
"They couldn't do that.
"I was told to take my evening medication, to have a hot drink and to watch the television."
She has called on the trust to review its training policies.
Mental health charity Suffolk User Forum said other people had expressed "quite negative feedback" about the Crisis Team service.
Project co-ordinator Jayne Davey said: "I think there is a gap between the expectation of what the service should provide, and what happens in reality.
"At the moment, it's not really meeting the needs of people who are feeling desperate or suicidal."
Hadrian Ball, medical director of the Norfolk and Suffolk NHS Foundation Trust, said the service was being continually monitored.
"Overall the performance figures we have for our Crisis Teams right across the trust indicates that they are performing to a satisfactory level," he said.
Mr Ball said he would review how some of the patients had been treated.