Mayor Terry Buckle drives his car into Tesco Express store in Moreton Hall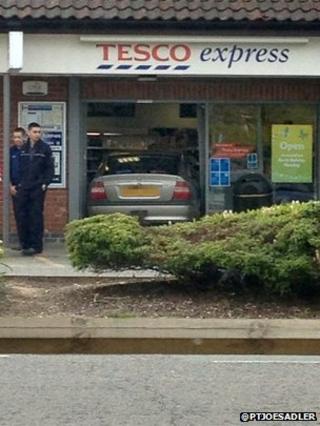 A mayor has driven his car through the doors of his local Tesco Express.
Councillor Terry Buckle, mayor of St Edmundsbury in Suffolk, drove his car into the store at Lawson Place, Moreton Hall, on Tuesday afternoon.
He was taken to West Suffolk Hospital with minor injuries but later released. His family said he was "all right".
Morteon Hall councillor Frank Warby said: "He had a slight mishap. They are automatic doors so opened as he approached."
Suffolk Police said officers were called to the store, which is on the outskirts of Bury St Edmunds, at 16:35 BST.
'Speedy recovery'
A spokesman said the doors of the store were broken but there was "hardly any damage" to the car.
Tesco said no customers or staff were hurt.
A spokesman said: "We wish the driver a speedy recovery and are relieved that none of our other customers or colleagues were hurt during this incident.
"An ambulance attended the scene and the shop is open and trading as usual for our customers.
"We'll be working as quickly as possible to get the front of the store repaired and back to normal."