HMS Ganges Association: Martin Foster charged with fraud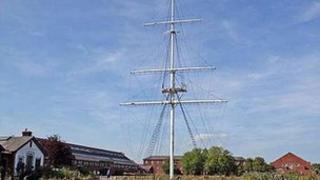 The former treasurer of a Suffolk naval veterans' organisation has been charged with fraud after £78,200 was withdrawn from its accounts.
The money belonged to the HMS Ganges Association, which is for people who served at the former naval training base at Shotley Gate near Ipswich.
Martin Foster, 54, of Haig Road, Uxbridge, is accused of two counts of fraud by abuse of position.
He is due before magistrates in Portsmouth on 24 May.
The inquiry was carried out by Hampshire Police because the alleged offences were reported to them.
It was alleged debit card transactions of £4,200 and cash machine withdrawals of £74,000 were made from the association's accounts between August 2010 and June 2012
The association said it had more than 3,000 members who served at HMS Ganges until the base closed in 1976.