Tesco cancels Ipswich Grafton Way superstore proposal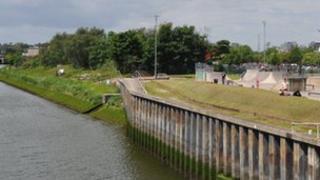 Tesco has abandoned plans for a store on the edge of Ipswich town centre.
The supermarket chain had outline permission to build an Extra store, apartments and hotels at Grafton Way on the site of a former B&Q store.
Tesco said it did not now need another large store but it would still apply for revised planning permission and then try to sell the land.
The Ipswich Central business group called for the council to reject the application and focus on other sites.
A Tesco spokesman said: "Following a review, we have concluded we do not need another Extra store in central Ipswich as our customers are well served by our existing stores in Copdock and Martlesham, as well as through our popular online business.
"However, because of the importance of the Grafton Way site to the community and its suitability for a mixed-use development, we have decided to proceed with our current planning application which, if approved, we will then look to sell to a developer or another retailer.
'Time to focus'
"This will give the best possible chance for the site to be developed."
Ipswich Central said it welcomed Tesco's decision to not build one of its own stores, but criticised its plan to sell the site to another developer.
Paul Clement, its chief executive, said: "[The Grafton Way Tesco] was too big, uneconomic and too much competition for the town centre.
"It's time to focus on other sites that are in line with our vision for the future and the priorities are redeveloping Tower Ramparts Shopping Centre and developing the Archant site as shops, offices and restaurants to link the waterfront with the town centre.
An Ipswich Borough Council spokesman said: "Following this announcement from Tesco, we anticipate the Grafton Way planning application being discussed by our Planning & Development Committee in the near future.
"Prior to that, we want to understand what commitments Tesco will give about the timetable for the redevelopment of this important site - if the application were to be approved."