Suffolk County Council elections: Conservatives retain control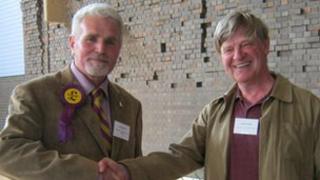 The Conservatives have retained control of Suffolk County Council, despite losing seats to both Labour and the United Kingdom Independence Party (UKIP) in the local elections.
The results from all 75 wards have been declared and the Tories have 39 councillors, down from 55.
UKIP went from one councillor to nine, all gained from the Tories.
Labour now has 15 seats, up from four, while the Liberal Democrats lost four seats, ending up with a total of seven.
'Surprised'
Labour's 11 gains were made at the expense of nine Conservative and two Liberal Democrat seats.
The Greens stay the same with two seats and there are now three Independent councillors instead of two.
Mark Bee, the Conservative leader on the council, said: "There's a lot of protest vote that you get mid-term [of a national government] and, at the moment, UKIP are the beneficiaries.
"What I'm surprised at is that the Labour vote hasn't broken through.
"We will continue to do the work we need to do to deal with the deficit and the financial pressures on the council."
Sandy Martin, Labour group leader, said: "The result is a solid rejection of the cuts and unemployment agenda of the national government and the local administration.
"People have gone out to make a protest vote, but UKIP have no serious policies to offer people and we need to listen to the electorate and make Europe work for us."
'Backlash'
Anthony Brown, UKIP's new councillor for Haverhill East & Kedington, said: "I'm absolutely delighted, but not surprised.
"There's a lot of anger out there at the way the country's gone, the way the mainstream parties are treating them and the raw deal with jobs and housing.
"We aren't just a one-policy party wanting to get out of Europe - that is our core value, but we've got a multitude of polices in our manifesto."
David Wood, Liberal Democrat leader, said the loss of four seats was "very disappointing".
"I think we're suffering from the mess the previous government left us in and we're suffering from a backlash as we're part of the national coalition.
"Our candidates were playing this election on local issues and UKIP have played a local election on national and European issues."
Suffolk County Council said 175,424 people voted out of 565,906 registered to vote - a turnout of 31%.