Darryl Bundy 'intruder' stabbing review call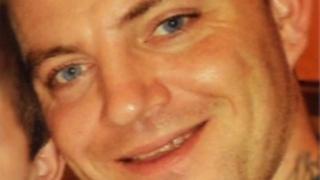 A coroner has called for a review into the death of a man who was stabbed in a bungalow in Suffolk during an alleged burglary.
Darryl Bundy, 29, of the Wirral in Merseyside, died in December 2011.
Mr Bundy was said to have raided the bungalow in Felixstowe, hitting the home owner over the head with a rolling pin.
The home owner's son said he fatally stabbed Mr Bundy to protect himself and his father.
But this was disputed and the coroner will ask for a review of the investigation.
Suffolk coroner Dr Peter Dean recorded a narrative verdict that Mr Bundy died of stab wounds after the incident.
Kye Chilton, 24, from Ipswich, and his father John Treasure, 55, who lived at the bungalow, were originally arrested on suspicion of murder.
The Crown Prosecution Service (CPS) decided not to charge either man after reviewing whether the use of force had been reasonable and necessary.
Mr Chilton told a coroner's inquest at Ipswich Magistrates' Court that he had stabbed Mr Bundy twice after he burst into the house wearing a mask and hit his father.
Mr Bundy's family disputed this version of events, saying he had visited the property with his brother to buy cannabis and no masks were ever found.
Dr Dean said "fear and confusion" may have muddied witness accounts.
"There are very few independent witnesses," he said. "We are left with two different scenarios and we can't be sure which is the right one."
He said he would write to the CPS to ask for a review of evidence from the inquest.
"I would like to give them the opportunity to look again if they wish," he added.
'Arguing about drugs'
Giving evidence, Mr Chilton said a man wearing a balaclava and dressed all in black came in through the back door shouting "Give me your stuff".
After attacking his father, Mr Chilton said Mr Bundy chased him and he grabbed a knife.
"I wasn't aiming for anything, I was just trying to stop him hitting me and stop him killing my dad," he said.
Mr Treasure said his recollection of the night was hazy but he could remember being hit over the head. He was later treated at hospital.
Paramedics found Mr Bundy in a pool of blood in the street.
It was later discovered he was wearing a pair of surgical gloves under another pair of gloves and had a knife tucked into his sock.
His brother, Stephen Bundy, who was also at the scene, disputed Mr Chilton's account and told the inquest his brother entered the house to buy drugs.
"They were arguing about the size of the bag of weed or something," Stephen Bundy said.
Pathologist Nat Cary said Mr Bundy suffered one stab wound to the chest and one to the back.