Cupola House, Bury St Edmunds: Restoration plan in after fire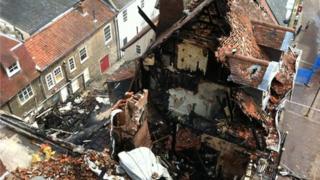 Plans have been submitted to rebuild a listed 17th Century house in Bury St Edmunds which collapsed after a fire.
About 120 diners were evacuated from the Cupola House restaurant last June after the kitchen fire.
Its owner, OMC Investments, is seeking planning permission from St Edmundsbury Borough Council for its proposals.
The Bury Society conservation group said it was hoping for a sympathetic and quality restoration, which was fit for modern use.
The five-storey townhouse on The Traverse dates from 1693.
It was restored in 2004 at a cost of £500,000, and was being used as a Strada restaurant when the fire broke out.
'Iconic look'
Most of the building had to be pulled down, but its front survived.
St Edmundsbury councillor Robert Everitt, chairman of the Bury area working group, said: "A team has been working very hard to allow it to be reconstructed for modern use, yet still retain that iconic look.
"The technical drawings I've seen include the cupola and some of the reclaimed materials creating a modern building with an old facade to it."
Alan Jary, chairman of the Bury Society, said: "It seems a fairly pragmatic and realistic way of looking at it, but the devil is in the detail, which we will now be going through.
"The staircase is still there and a new cupola will be built on top, so we're hoping for a sympathetic and quality restoration."
A consultation period on the plans will end on 3 May.
OMC Investments said it would not be commenting at the moment.