Suffolk court closures 'cutting the bone', says magistrate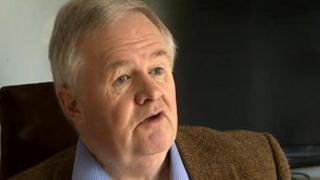 Cutbacks to the courts service in Suffolk are now "cutting the bone" and are as low as they can get, according to a magistrate.
Two courts have closed in the county since 2011.
Graham Higgins, a Bury St Edmunds magistrate of 25 years, said further cuts would cause people to have "great difficulty" in getting to court.
Justice Secretary Chris Grayling said: "We have to make savings and close down facilities which are underused."
Mr Higgins put his case to Mr Grayling on Wednesday during his visit to Ipswich Crown Court.
Mr Grayling said "tough decisions" had to be made.
"Across the court system we're seeing a fall in the number of cases, fewer people entering the criminal justice system and less demand," he said.
"Therefore we have around the country empty court rooms."
In 2011, Sudbury Magistrates' Court and Lowestoft County Court were closed and there are fears more small courts could be shut in future.
Suffolk now has just three magistrates' courts, in Bury, Ipswich and Lowestoft.
Mr Higgins said Bury had now taken on cases from Sudbury and Thetford, in Norfolk, adding to the strain.
"I think we've got to the stage now where we are cutting the bone - the local justice is as low as it can get for a county like Suffolk," he said.
"We now only have three courts on the very corners of Suffolk and there are very strong rumours that there could be another quarter of the courts closed around the country.
"If there are further court closures which are needed economically, how is he going to cope with justice still being local and people being able to get to court in rural areas like Suffolk?"
Mr Higgins added transport links for defendants and witnesses were expensive and infrequent and morale among court staff was as low as he could remember.