Stowmarket music teacher Derek Cable's abuse victims seek damages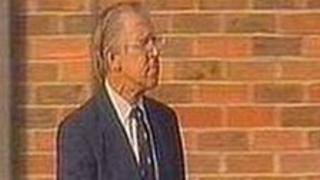 A group of former pupils is seeking damages 10 years after a Suffolk music teacher was convicted of sexual abuse.
Derek Cable, who taught at Stowmarket Middle and ran the Stowmarket Concert Band, was jailed for four years in 2003 for indecent assault on five boys.
Cable was 63-years-old at the time of his sentencing.
Those five, and another five, have issued a claim at Cambridge County Court against Suffolk County Council, which employed Cable.
The criminal conviction was for offences which took place between 1970 and 1983 when the five boys were aged between 10 and 14.
When sentencing, the judge at Norwich Crown Court told Cable that "cigarettes, alcohol and, in one case, cash was used in order to groom them for your own particular purposes",
'Damaged'
The civil claim for compensation has been lodged by Andrew Grove & Co. Solicitors, which has been working with the claimants since 2011.
He said five more former pupils had come forward with allegations of abuse since 2003.
Mr Grove said: "These claimants have been damaged by this abuse - some more seriously than others - and all of them have applied for compensation.
"The issuing of proceedings is to protect their claim against time.
"We are talking to Suffolk County Council's solicitors and it is difficult to say how much we would settle for at this stage."
A council spokesperson said: "The county council is currently involved in legal proceedings regarding this case and, as such, we cannot comment any further at this stage."