Two bailed in Bury St Edmunds car park death inquiry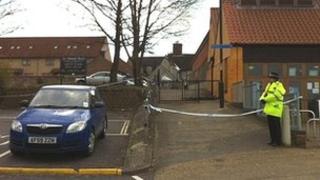 Two men arrested on suspicion of murder following the death of a woman in Suffolk have been released on bail.
The body of Mary Roberts, 50, of no fixed abode, was found near St Edmunds Tavern in Risbygate Street, Bury St Edmunds, on Wednesday morning.
The men, aged 55 and 59, from Bury St Edmunds, were released on bail on Thursday night until early June.
The cordon that was placed in Petch Close to allow for initial police investigations has been lifted.
Police continue to appeal for witnesses.