Suffolk lambs given infra red heating lamps in the cold weather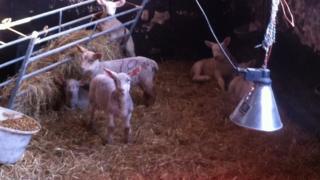 A Suffolk farmer is keeping his 600 lambs indoors and providing them with infra red heating lamps as the cold weather continues.
Stephen Cobbold said 30 of his flock at Acton near Sudbury had died of pneumonia and he could not risk grazing the rest outdoors.
The lamps are being used to revive the 30 other lambs which are ill.
He said it is costing him an extra £1,000 a week when the cost of 300 tonnes of feed is added.
The newborn lambs were put outside on the fields three weeks ago, but the rain and snow has meant they are unable to graze and farm buildings have had to be emptied to provide space for them.
Mr Cobbold said: "It's like being in a hotel, but as carers of the livestock we have no choice.
"We had to almost force-feed some of the lambs we brought in alive and put them on a machine which gives them a constant supply of warm milk.
"These sheep are probably going to be inside for another two weeks before we get any grass growing outside to feed them, assuming temperatures rise to warm the soil up."
The farm said it was having to buy in the extra feed because of the the poor quality of last year's home-grown silage crop.