Lowestoft embedded car: Driver in critical condition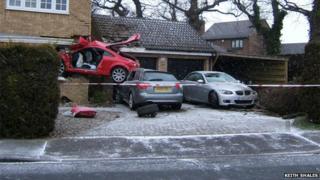 The driver of a car that crashed and ended up embedded in a house in Suffolk on Sunday is now in a critical condition in hospital.
The red Audi TT left the road and crashed into the home in Long Meadow Walk, Lowestoft, at about 01:45 GMT.
The driver, who the BBC understands to be Lewis Richardson and in his 20s, had head injuries.
He is being treated at Addenbrooke's Hospital in Cambridge where his condition is critical but stable.
Three people were in the house at the time of the crash but they were uninjured.
The car was removed from the house on Sunday, and engineers assessed the house for structural damage.