John Constable works back at Christchurch Mansion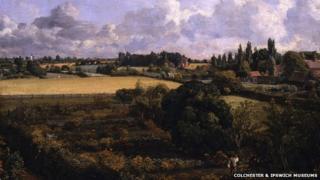 A new permanent display of John Constable's art is opening in Suffolk following a £500,000 museum refit.
The money has been spent on special air conditioning, lighting and flooring at Christchurch Mansion in Ipswich.
The Victoria & Albert Museum in London has loaned a preliminary sketch of his father's kitchen garden in East Bergholt which will be reunited with the finished oil painting.
The museum will also be displaying sketches from Constable's student days.
The Constable room at the mansion closed in 2011 for the refurbishment.
Emma Roodhouse, art curator for Colchester & Ipswich Museums, said: "We needed a new environmental monitoring system to protect the art, which would otherwise slowly deteriorate.
"This is the only public place in Constable Country to show artworks by Constable for free and people will be able to relate to his view of Suffolk and Essex."
The Victoria & Albert Museum has also loaned paintings of his father Golding Constable's house in East Bergholt, the village's church and a drawing of ships on Ipswich waterfront.
The exhibition features other works and artefacts which were not on display before the renovation.
These include two life studies from Constable's time as a student at the Royal Academy in London, a carving of a windmill on a piece of a timber which came from one of the Constable family's windmills in the Dedham Vale and a portrait of Constable (1776-1837) by his friend and biographer Charles Leslie.
Constable's family, who still live in Suffolk, have loaned his paint box, his baby rattle and his wife Maria's wedding ring.
The exhibition room at the mansion will still feature works by Sudbury-born artist Thomas Gainsborough, but the room will now focus on landscapes with Gainsborough's portraits being moved to another room.