Waterloo medal auctioned for three times its estimate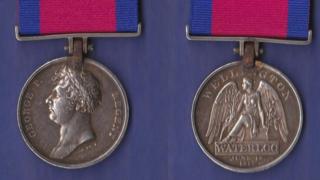 A medal from the Battle of Waterloo has sold for three times its estimated price at auction in Norfolk.
A collector from north Suffolk was selling the medal awarded to Ensign Robert Martin who took part in the 1815 battle when British and Prussian allies defeated Napoleon.
James & Sons auctioneers estimated the medal would reach £2,500-£3,000 at its sale at Fakenham Racecourse.
But an anonymous private collector from Lancashire won it with a bid of £7,500.
David James, auctioneer, said he was "delighted" with the price the medal fetched from seven bidders in the auction room and more on the internet.
"It was the first medal to be issued universally to any British troops who took part in a battle and there were probably about 8,000 minted," he said.
Rust on jackets
"I don't think anybody could tell you how many are left, but it's rare for them to come on the market in this condition.
"Internet bidding helps us compete with the big London auction houses."
James & Son said the medal shows rusting on the iron suspender, which led many soldiers to removed the medals from their jackets.
The battle, on 18 June 1815 marked the final defeat of the Emperor Napoleon of France by the Duke of Wellington, who lead a coalition force alongside the Prussian army.
The auction house said little is known about Ensign Martin, but during a Waterloo roll call in 1817 he was listed as serving under Captain Thomas Wilson's company in the 28th (Gloucestershire) Regiment of Foot.