Felixstowe's Spa Pavilion buyers 'put off' by cultural criteria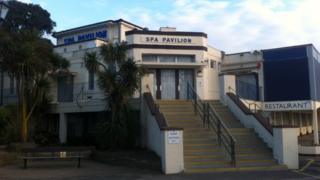 Potential buyers of an historic seaside theatre are being put off by restrictions on its use, Suffolk Coastal District Council has been told.
Felixstowe's Spa Pavilion was closed in January and the council has been trying to sell it off for more than a year.
It has been told the majority of potential buyers had concerns about the condition that they must add "cultural or tourist" value to the town.
The council is to discuss the future of the Spa Pavilion on 2 April.
The seafront theatre opened in 1909 but closed when the council decided it could no longer afford to contribute £250,000 a year towards its running costs.
Councillor Geoff Holdcroft, cabinet member for leisure, said the company responsible for marketing the theatre, Jones Lang LaSalle (JLL), said a "few organisations" were interested in the site.
"The majority have concerns regarding the restrictions we have imposed on its use," Mr Holdcroft said.
"[JLL] have urged us to be more specific about what is an acceptable use for the site."
'Difficult market'
Mr Holdcroft said the council's planners would help define what was acceptable, but has previously admitted the theatre could be demolished.
"It's a difficult market and I'm beginning to think that is a possibility," he said.
"I would still love to find a use for the building which would enhance the cultural and tourist value of Felixstowe."
The community based Spa Pavilion Associates had proposed to take over the running of the theatre, but the council said its plans were not financially viable.
Chairman Lisa Hardy said the group was determined to see the building reopen as a theatre and met with the council on Tuesday.
"We are at a loss but are not giving up," she said.
"We will not sit by and allow them to stick up a bunch of flats."