Baylham solar farm archaeological study requested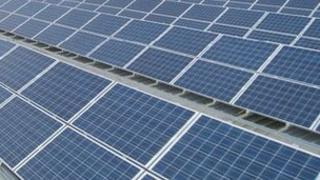 Archaeologists want a full study of the land before a proposal for a 50 acre (20 hectare) solar panel farm in Suffolk is considered.
Hive Energy wants to put 40,000 solar panels on agricultural land at Hill Farm, Baylham, near Ipswich.
Suffolk County Council's archaeological service said a systematic study of the land was needed first as the area has been inhabited since the Iron Age.
Mid Suffolk District Council is due to look at the application this year.
Jess Tipper, county archaeologist for Suffolk, said: "We know the Gipping Valley has been densely occupied through pre-historic, Roman and medieval times and the site is within a landscape of known archaeological remains.
"There has never been a systematic evaluation of this site, so a standard approach would be to carry one out.
"If archaeological remains are found we would work with the developer to preserve them - we're not trying to stop development."
Hive said the £12m project would provide electricity for 3,000 homes via the national grid.
The panels would be up to 8ft (2.5m) off the ground.
Tim Purbrick, Hive's commercial director, said: "We are not aware of any historically significant finds on the land, but we will work with the Suffolk archaeological service as part of the planning process.
"The solar farm would have low-visibility for the community so would be low-impact, but high energy-generating.
"It would also remain in agricultural use as sheep would be used to graze the land around and under the solar panels."