Giles drawings fetch £8,500 at Lockdales auction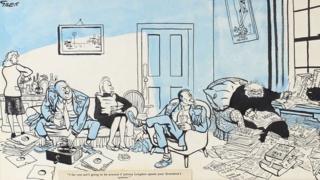 A drawing made for an American friend of cartoonist Carl Giles has been the highest earner at an auction.
Lockdales was selling 31 cartoons by the late Daily Express artist at its auction house in Martlesham, Suffolk.
The whole collection raised £8,500 for the sellers.
A cartoon featuring US Marine Corps Master Sgt Duncan-Koller, as well as Giles' famous Grandma character, exceeded its expected price by selling for £1,350.
The drawing shows Grandma studying the horseracing pages while two American officers play records on a gramophone.
A cartoon of Grandma in a supermarket was listed at £600-£900 and went for £1,250, while a boat in Burnham on Crouch harbour in Essex went for £1,000.