Southwold Pier sold to Gough Hotels, owner says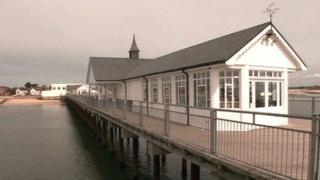 The owner of Southwold Pier says the landmark has been sold to a hotel chain, two-and-a-half years after it was put on the market for £6m.
Stephen Bournes, who has been at the pier since 2005, said it had been sold to Gough Hotels for an unspecified amount, but less than £6m.
The pier includes several restaurants, shops and arcades and already has planning permission for a 30 bed-hotel.
Gough Hotels, which is based in Bury St Edmunds, was unavailable for comment.
The chain owns the Angel in Bury St Edmunds and the Salthouse on the Ipswich Waterfront.
Mr Bournes said the sale of the 623ft (190m) long pier, which was built in 1900 and refurbished 100 years later, was "great for Suffolk".
"The pier is a bit of a landmark and is very family orientated," he said.
Southwold Pier has won a number of national tourism awards over the past few years.
It was named Best Seaside Attraction 2007, Best Tourism Experience 2008 in the East of England and Best Large Attraction 2009.
Britain's only surviving sea-going steam passenger ship, the PS Waverley paddle steamer and its sister ship the MV Balmoral, are frequent visitors to the pier.