Felixstowe beach hut owners angry over rent increases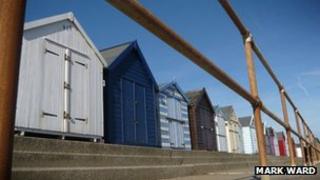 Beach hut owners in Felixstowe say they are angry over rent rises of up to 20% and will form an association to fight the move.
Suffolk Coastal District Council voted to increase rents up to £800 depending on the size of a hut or chalet.
Owners said it is well above the rate of inflation and did not compare favourably to other seaside resorts.
The council said it was providing a commercial service and rents helped fund other services.
Barbara Grace, whose rent will go up from £630 to £790 in April, said: "We're being ripped-off and I've gone beyond furious.
"No other seaside town seems to charge so much - particularly to residents.
'Fair charge'
"We need to form a beach hut owners' association to give ourselves a voice, try and fight this year's increase and stop any further increases."
Ms Grace claimed other seaside towns charge residents half the cost of non-residents.
She said she may reduce the size of her hut, so that she is charged less.
The council charges rent for about a thousand plots in Felixstowe and tenants then build their own huts there.
It has voted to increase the rent for the 900 huts by 12% and 80 chalets by 20%.
Ray Herring, Conservative leader of the council, said: "This is a commercial service and it is based on delivering a fair charge, but also acts in the interests of council taxpayers when local authority budgets are under pressure.
"We have already made a decision about the rates for 2013-14 and the invoices will go out soon.
"However, for the future it will be useful to have a beach hut owners association to work with."