Ipswich athletics coach Stephen Benson 'abused girls on holidays'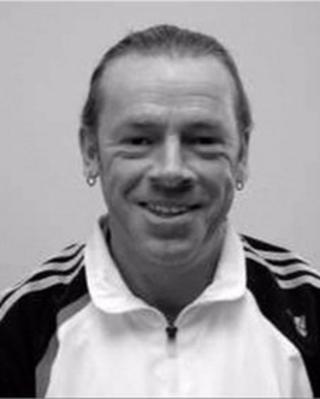 An athletics coach abused girls after being invited on holidays with their families, a court has heard.
Stephen Benson, 50 and from Suffolk, denies 11 rapes and 10 other charges against three girls.
The prosecution at Ipswich Crown Court, said he befriended their families and "groomed the girls for his own sexual gratification", between 1989 and 2011.
Mr Benson, of Pearsons Way, Copdock, was a coach with Ipswich Harriers Athletics Club.
Along with the rape charges, he also denies offences of indecent assault, sexual activity with a child and sexual assault involving the three girls.
All the alleged victims had been 15-years-old when the alleged offending began.
'Controlled social lives'
Outlining the case, Riel Karmy-Jones, prosecuting, told the jury the defendant was a respected coach who had recruited the youngsters to the athletics club and had been "manipulative and controlling".
She said: "He wormed his way into their lives and was initially charming and expressed interest in their daughters' talents.
"He controlled their eating, sleeping and social lives, they submitted to his sexual advances until they were old enough to know better."
The court heard Mr Benson would be a regular for family meals at some of the girls' houses and had carried out sexual assaults in their bedrooms, while practising massage and while he had been invited on family holidays.
Miss Karmy-Jones said the sexual behaviour was "wrong on any moral compass" given the girls' ages and his position of authority.
'Victim idolised him'
The prosecution said the alleged victims were unknown to each other.
The prosecution said Mr Benson denied the allegations when interviewed by police and said one of the girls "idolised him".
He had told officers he admitted to sexual relations with one of the girls, but only when she was over the age of consent.
Mr Benson taught PE at Copleston High in Ipswich since 1986, but the offences related to his position in the athletics club.
The trial continues.