Hintlesham Woods missed by new pylons, says National Grid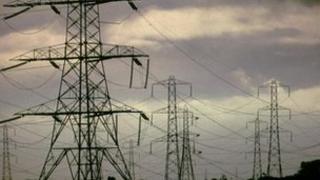 A Suffolk wood declared a site of special scientific interest will not be affected by new electricity pylons, the National Grid has said.
The company wants its new 17-mile (28km) connection between Bramford, near Ipswich, and Twinstead in Essex to be installed close to an existing line.
It would run to the north of Hintlesham, away from Hintlesham Woods.
Anti-pylon campaigner John Foster said he was "disappointed" with the route and said it should all be underground.
The route would include two underground sections below the Dedham Vale and Stour Valley, measuring a total of 5 miles (8km).
Mr Foster, from the Essex and Suffolk Coalition of Amenity Groups, said although the wood had been considered, the Grade I listed Hintlesham Hall would be affected.
"The National Grid had mapped a viable underground route to miss Hintlesham Hall, the local community and woodland, and we believe they should have adopted that route," Mr Foster said.
'Least impact'
National Grid said the route had been decided after the first phase of consultations, lasting more than three years.
It said it would cost £208m to install, but a completely underground route would have cost £500m.
Senior project manager Brian Smethurst said the company had received a "huge amount" of feedback from local residents.
"We have tried very hard to find the right balance between all the factors we have to consider including the potential impact on the local area.
"Of all the options we considered, we believe this one has the least overall impact on the landscape, local communities and properties including the many historic buildings in the area."
Mr Smethurst said the public would continue to be consulted as the National Grid draws up more detailed plans of where the pylons will be located.