Talitha Koum sets £500,000 target for drug rehab centre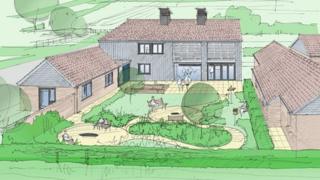 A Suffolk charity says it is confident of raising £500,000 by September for a new drug rehabilitation centre.
Talitha Koum has already started preparation work on the Hope Centre, near Ipswich, but wants to have the building finished by next year.
John Cobbold, chief executive of the Christian charity, hopes 500 businesses or individuals will donate £1,000 each to fund the rest of the work.
"You have to be positive," he said. "We believe God will provide."
The idea for the centre in Witnesham, which will not be exclusively for Christians, was conceived following the murders of five women in Suffolk.
Gemma Adams, Tania Nicol, Anneli Alderton, Paula Clennell and Annette Nicholls had all battled with drug addiction before they were killed by Steve Wright in 2006.
Mr Cobbold said the charity had already raised £200,000 towards the Hope Centre, which will be able to treat 12 people at a time.
"Women are waiting to come in to use it," he said, adding that there was a shortage of female-only centres in the country.
Mr Cobbold says the centre will use a 12-step treatment programme, be run by fully qualified staff and be regulated by the Care Quality Commission.
Residents will receive support for their addiction and also help with skills including computing and construction.