Aldeburgh Cinema's 80-year-old 'oldest' projectionist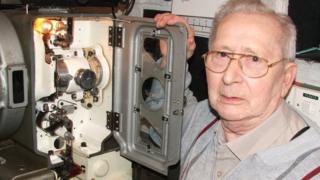 Staff at a Suffolk cinema have thrown a birthday party for their 80-year-old projectionist, who they believe is the oldest still working in the UK.
Neville Parry has been at the Aldeburgh Cinema for 40 years.
Mr Parry started working as a projectionist in a cinema in Felixstowe when he was a teenager.
Mr Parry said: "I still want to make it like the old cinemas where it was a comforting and enjoyable to come to the cinema."
A public screening of the 1957 Peter Sellers comedy The Smallest Show On Earth was held in his honour - using a 35mm print.
'Knows his stuff'
Mr Perry said: "They are called technicians these days and you don't really need a projectionist now.
"The thing that worries me is that if you have a 35mm film to show, then who is going to be left to run them, because the boys coming in now are just taught the digital?"
When asked if Mr Perry was the oldest projectionist still working, Thomas Gerstenmeyer, cinema manager, said: "We did check on this and his nearest rival was a 73-year-old in Birmingham who retired two years ago, so we're sure he is the oldest working projectionist.
"Neville is a great personality and knows his stuff. He embraced digital technology in 2006 and it'll be hard to replace him when he does retire, but he has trained up our other three part-time projectionists."
Mr Perry said he had no plans to retire. "I still enjoy it and I'm not an old man," he said.