Benjamin Britten's walks retraced for Aldeburgh event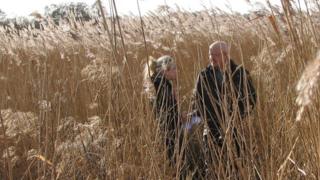 A soundman has turned the wildlife of the Suffolk coast into a piece of work for Benjamin Britten's centenary.
Chris Watson, who worked on the BBC's Frozen Planet, has retraced the composer's walking routes around Aldeburgh and Snape.
Recordings of birdsong feature in In Britten's Footsteps which has its premiere at the Britten Studio in Snape later.
The natural sounds will be accompanied by Britten's solo cello work.
Mr Watson, who was also a founding member of Sheffield band Cabaret Voltaire, said: "Not only do the reed beds have lots of wildlife in there which you can't see, but it also has this great signature sound - that beautiful whispering hiss of reeds rubbing together in the breeze.
"It inspires creative thought and that's why I think it was important to Britten as part of his creative process to be in this environment."
'Remarkable' birdsong
The work was commissioned by Aldeburgh Music as part of its year celebrating the birth of Britten in 1913.
The composer, who was born in Lowestoft and died in Aldeburgh in 1976, founded the town's annual music festival in 1948.
Mr Watson spent 18 months recording sounds for the 40 minute piece in and around the RSPB reserves at North Warren and Snape.
It included bird song from skylarks, reed warblers, curlews, blackbirds and long-tailed tits and insects such as crickets.
"On the old railway path near Britten's Red House I recorded one of the most remarkable songs I've ever recorded - the solo song of a nightingale which was also Britten's favourite bird," he said.
"I worked at the South and North Poles for David Attenborough, but it's important to remember that you don't have to go to the ends of the earth to hear some of the most remarkable wildlife sounds on the planet."
The cellist in the performance will be Oliver Coates, while the natural sounds will be computer-controlled by Mr Watson and Tony Myatt, professor of sound at the University of Surrey.