West Suffolk Hospital recruits nurses in Portugal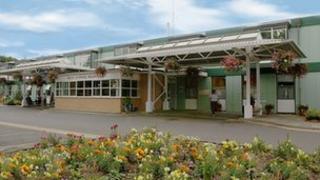 A Suffolk hospital has recruited 40 nurses in Portugal, claiming there is a shortage of registered nurses in the UK.
The West Suffolk Hospital in Bury St Edmunds said the new staff will arrive in February and March.
Nichole Day, executive chief nurse, said: "We have found it difficult to recruit due to a shortage of registered nurses coming through the system."
The hospital said the nurses were needed for additional winter capacity.
Ms Day added: "In Portugal, nurses complete a four-year-degree course, with the final nine months spent working in an acute hospital.
"They will help us fill existing vacancies while further reducing our spending on bank and agency staff."
The hospital said it had 1,000 nurses, of which 60% were qualified at registered grades.
Karen Webb, the eastern regional director of the Royal College of Nursing union, said: "It's an outcome of people in suits trying to cut the costs of the NHS by training unregistered grades rather than registered nurses.
"I don't doubt these Portuguese nurses will be excellent, but in our experience they will not stay in Bury St Edmunds, so it's not a long-term solution."
A Department of Health spokesperson said: "We do not accept there is a national shortage of nurses. Nearly 2,500 more nurses started working in the NHS in October 2012.
"However it is up to trusts to recruit and ensure they have appropriate levels of staff. If they cannot recruit enough staff locally they may opt to seek nurses from further afield.
"Nurses from abroad have made a very valuable contribution to NHS patient care. However, they should only work in the NHS if they have proven their competence and language skills."