Suffolk drops down secondary schools GCSE league table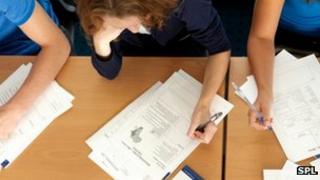 Suffolk has dropped into the bottom 10 in the government's league tables for state school GCSE results.
The county has fallen from 123rd place last year and is now 142nd out of 151 local authorities, with 51% of pupils achieving five or more A-C grades.
Suffolk County Council claimed the downgrading of AQA examination board results in English played a part.
AQA said it had not changed its grading boundaries any more than other exam boards.
Nationally, an average of 59.4% of pupils got five or more A-C grades, one of which had to be English.
A High Court challenge by a UK-wide group of schools and councils against the exams watchdog Ofqual and the AQA and Edexcel exam boards has been heard, but the court's ruling has yet to be made.
'Fiasco'
King Edward VI secondary school in Bury St Edmunds, where the AQA English exam is taken, said 53% of its pupils got the five GCSE A-C grades, compared to 64% last year.
Geoff Barton, its head teacher, is part of the legal challenge group and called the downgrading a "fiasco".
"Other exam boards have changed their grade boundaries, as they do most years, but it's the unprecedented scale of AQA's changes in English between the January exams and the June exams that we see as unfair," he said.
"Some counties which are very similar to Suffolk haven't been hit [by downgrading], so we're really not comparing like with like.
"If we'd chosen a different examination board, the statistics might have been quite different."
Ben Gummer, Conservative MP for Ipswich, said: "It's an absolutely appalling result and we've got nothing to gain by defending the position in the table - no excuse is good enough."
'Unfair decision'
But Graham Newman, Conservative county councillor with responsibility for education, said: "When you've got the county's top head teachers telling you this re-grading business has affected results in their schools, then you can see this is out of my control completely.
"Now we are seeing what many considered an unfair decision to change grade boundaries reflecting negatively on the overall picture for GCSE results across the county.
"The same schools that have slipped down the GCSE league tables have done fantastically with their A level results, where grade boundaries have not been changed at the last minute."
AQA said last summer all awarding bodies increased their English and English Language grade boundaries by varying degrees compared with the winter series.
"It is not correct to say that AQA adjusted grade boundaries more than other exam boards and we are not aware of any evidence that would support this view," a spokesman said.
"AQA's overall outcomes were very similar to other awarding bodies; this was confirmed in the regulator Ofqual's review, which did not find anything substantively different between AQA and any other exam board."
The county council said it was working to improve school standards with its Raising the Bar programme.