Bury St Edmunds' Theatre Royal and Apex cancel merger talk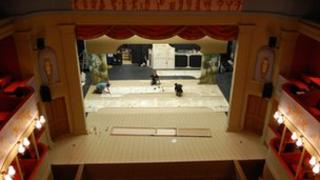 Two arts venues in Bury St Edmunds have agreed to cancel plans to merge.
Last year a new trust was proposed to jointly manage The Apex, a music and entertainment venue, and the 19th Century Theatre Royal.
The theatre, which underwent a £5.3m restoration in 2005, said it did not want to share a management team but would look for "closer collaboration".
St Edmundsbury Borough Council, which owns The Apex, said it "welcomed" the decision.
When the merger was proposed in July, the council said it could make initial savings at both venues of up to £150,000.
'Major differences'
The venues are now looking at sharing a box office, co-ordinating programmes and running a joint marketing strategy.
Theatre Royal chief executive Simon Daykin said: "We are confident we can achieve major differences through working together in mutual partnerships to make and promote quality art and entertainment.
"Our aim is to drive growth rather than to cut back and risk knocking the heart out of this town's cultural richness."
A spokesperson for St Edmundsbury Borough Council said: "Bury St Edmunds has a rich cultural life and we are looking forward to a productive collaboration with the Theatre Royal that benefits the town and its many visitors."
A public consultation will take place in February.