Nowton Park fair cancelled after woman killed by horse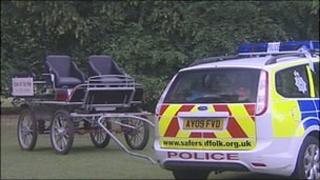 A country fair at which a woman was killed by a runaway horse and carriage will not be held again, a council said.
Carole Bullett, 57, died following the incident at Nowton Park Country Fair, Bury St Edmunds, in June 2011.
Last week it was announced that St Edmundsbury Borough Council, which organised the event, would be prosecuted over her death.
The council said the decision to cancel the event was not related to the forthcoming prosecution.
The annual fair was first held in 1990 at the park, which the council owns and manages.
Ms Bullett, of Bury St Edmunds, was killed when the horse bolted and struck her at the 2011 event.
She died from chest injuries at Addenbrooke's Hospital in Cambridge the next day.
An inquest last October ruled that her death was accidental.
But the Health and Safety Executive (HSE) said it would be prosecuting the council and the horse's owner Duncan Drye, of Bishops Road, Bury St Edmunds.
The fair was staged again last summer, but a council spokeswoman said it would not be held in the future.
"We never say never but we don't envisage putting it on in its old form," she said.
"If there was a need for a community event and we were asked to look at it, we would."
The decision to cancel the event was "entirely coincidental" to the forthcoming prosecution, she said.
"The decision had to be taken sooner than later. We had to look at how we're using increasingly scarce resources."