Holywells House icehouse being excavated in Ipswich park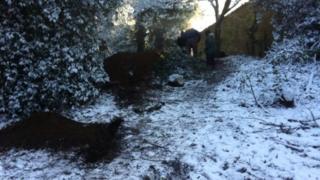 Archaeologists are digging up an underground "fridge" in the grounds of a former mansion house in Ipswich.
The 19th Century icehouse in Holywells Park was near the site of the now-demolished Holywells House, which was owned by the Cobbold brewing family.
It would have been used to store food and drink in cool conditions to preserve perishable items for longer.
Ipswich Borough Council, the park's owners, hope to restore the icehouse for public display and access.
The icehouse was a round, domed brick structure, buried in sloping ground with an entrance tunnel at its base and its chamber could be up to 6m (20ft) high.
Heritage officers said ice would have been collected from the park's ponds during the winter and put in the chamber to keep it cool throughout the year.
Air raid shelter
The house was demolished in 1962 and the project said the icehouse could not be found on any maps.
Richard Sharp, community engagement officer from the council, said: "The dome was removed in the early 1970s, it was filled with earth and the tunnel was bricked-up, but some local residents can remember playing in the icehouse when they were youngsters, so they've been able to help us locate it.
"If we can get Heritage Lottery Funding we will be able to carry out a full excavation, and it would be a very exciting addition to the park."
David Baldry, 48, from the Friends of Holywells Park, played in it as a child.
"It was an air raid shelter during World War II so it was full of old newspapers, gas masks, oil signs," he said.
"You used to crawl along a tunnel and then drop into the chamber and your mates would have to pull you back up.
"If the structure is sound, we can open it up to the public and provide some interpretation about what icehouses were used for."