Rats 'eat' part of Suffolk woman's car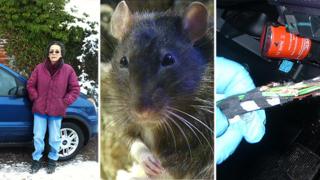 A Suffolk woman returned from a holiday to find rats had eaten through parts of her car causing damage put at £1,200.
Jill Delaney, 74, from Kentford, said the electrics had gone, rubber was stripped from pedals and the car had to be towed to a garage to be fixed.
A spokesman from her insurance company, Saga, said: "Rats appear to have got into the car and caused... damage."
The company that manages her property and surrounding land said the landlord had called in a pest controller.
Mrs Delaney left her car in the driveway of her rural property while visiting relatives in Cornwall for Christmas.
"The day after I got back - it was 28 December - I tried to open my car and the central locking didn't work," she said.
"Then I saw the rubber on the pedals had been completely shredded and there were rat droppings everywhere.
"I know a rat dropping when I see one."
'Burnt toast'
Mrs Delaney's five-year-old Ford Fusion was towed to a garage in Newmarket and photographs sent to her insurance company.
"It took three weeks to fix because they kept finding more damage," Mrs Delaney said.
Robin Wiley, who has been a pest controller in Cambridgeshire for more than 70 years, said Mrs Delaney's rat problem was not something he had come across before.
"I would expect mice, or even squirrels to cause that kind of damage, but it's not the sort of thing rats would normally do," he said.
However, Mrs Delaney was adamant the damage was caused by rats.
A spokesman from Saga said: "Pictures taken by the garage show the extent of the problem.
"Rats appear to have got into the car and caused £1,200 worth of damage to the wiring and seatbelt."
Although her landlord is dealing with the rats and debris in barns bordering her tenanted property, Mrs Delaney said she was worried it could happen again.
"I risk my no-claims if I have to go to the insurance company again," she said.
"Pest controllers told me rats hate creosote, so I've filled a cat litter tray with the stuff and put it under the car.
"I've also put out burnt toast because I hear they hate that too," she added.