Suffolk school closures 'out of order', says county councillor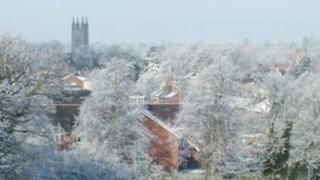 The number of schools that closed in Suffolk on Monday due to snow was "out of order", a county councillor said.
Graham Newman, Conservative cabinet member for education and young people, said he was disappointed at the closures, with more than 200 shutting.
He said gritters ensured routes were cleared and believed staff should have tried harder to get schools open.
Penny Otton, a Lib Dem opposition councillor at Suffolk County Council, said safety had to be paramount.
A few inches of snow fell throughout the county on Sunday, forcing more than half of Suffolk's schools to shut or restrict their opening times the following day.
Only three schools closed on Tuesday, the Conservative-run council has reported, despite snow failing to melt in freezing temperatures.
Mr Newman said officials had contacted schools that closed on Monday to ask them whether there was anything more they could do to keep them open.
'Lives at risk'
"It is out of order. We should be trying everything we can to get the schools open," he said.
"You can't beat equipment failure like boilers breaking down, but for many young people who live nearby it is perfectly credible for them to get to school.
"I had a head teacher who drove 65 miles in from Essex only to find out his colleagues, who lived a short distance away, said they could not get in. It is not on."
Penny Otton, Lib Dem spokeswoman for children and young people at the council, said: "We believe it has to be left to the judgement of the head teachers and governors.
"Those in rural areas have been faced with severe weather conditions. The safety of children has to be paramount."
Graham White, of Suffolk's National Union of Teachers, said: "Clearly we are disappointed the schools closed, but we have no control over the weather.
"They all closed with good reason and with health and safety in mind. We shouldn't be forcing people to drive in bad weather and put their lives at risk."