Snow forecast for Suffolk into Tuesday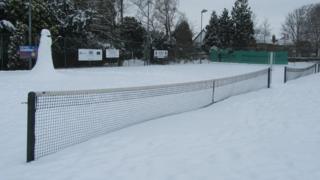 More snow is forecast for Suffolk with the temperature expected to dip to -5C (23F) into Tuesday morning.
Sleet and snow showers are expected around Ipswich and east Suffolk.
On Monday more than 200 schools were closed across the county and railway services to London were affected by a broken down train at Chelmsford.
A lost wedding ring was found in the snow following an appeal on BBC Radio Suffolk for people with metal detectors to come and help.
Gareth Johns, 34, from London, was visiting St Elizabeth Hospice, Ipswich, where his grandfather Jim Bloomfield had died on Friday.
The ring was lost as he was clearing ice from relatives' cars in the dark.
His brother Andrew, who was with him, made the call to the radio station and two people - Ian Roberts and Gerry Keeler - turned up to help and the ring was found within minutes.
"It was a small ray of sunshine after a very sad morning," said Andrew, who lives in Stowmarket.
"We knew roughly where the ring was, but we would never have found it without the detectors, because it was buried in compacted snow."