Suffolk night shelter volunteers get 4x4 snow transport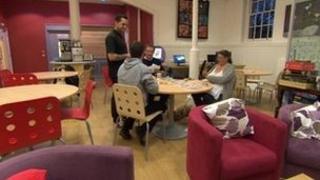 A charity has provided a four-wheel drive vehicle to ferry volunteers to seven churches being used as cold weather night shelters in Suffolk.
The British Red Cross sent a Land Rover for the volunteers who might have to battle through the snow.
Many homeless people are sleeping rough on the streets of Ipswich.
The churches taking part are in the town centre and many of the 400 volunteers who came forward live in surrounding villages.
The Land Rover, from Bury St Edmunds, will be available to volunteers as long as the icy conditions endure.
The Rev Canon Paul Daltry, minister for church and community engagement with the St Edmundsbury and Ipswich Diocese, said: "It means that we can guarantee that the night shelters run for the homeless in Ipswich just when most needed."
The homeless people are able to clean and freshen up, enjoy a hot meal, sleep in a clean and comfortable bed and receive a breakfast in the morning before they depart for the day.
The project to open churches as winter night shelters will continue until 3 March.
The churches involved are: The Hope Church in Fore Hamlet; the Salvation Army Hall in Bramford Road; St Mary at Stoke, Stoke Street; the Ipswich International Church (Elim) in Barrack Corner; Christ Church/St Pancras Church in Tacket Street; Burlington Baptist Church in London Road; and Holy Trinity church in Back Hamlet.