Sizewell B builds new radioactive nuclear waste store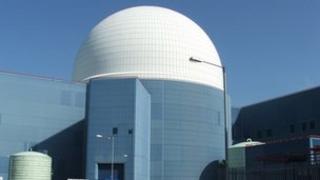 An energy firm has begun work on a new store for radioactive waste at Sizewell B nuclear power station.
EDF Energy said the dry fuel store at its site on the Suffolk coast would provide capacity for all the spent fuel created until the plant shuts in 2035.
The store for uranium oxide waste should by completed by 2015. EDF will also spend £200,000 on local roads.
Resurfacing work will be carried out on the road between Yoxford and Sizewell and should be finished by July 2013.
All the nuclear waste created since Sizewell B started generating electricity in 1995 is currently stored on site under water in storage ponds.
EDF said the new project meant spent fuel would be put in welded metal canisters, cleaned and placed in large concrete casks.
'Safely and securely'
The energy firm said it would continue to store waste on site until a deep geological disposal facility was made available - similar to the storages created in underground rock caverns in Finland.
Jim Crawford, Sizewell B's station director, said: "This is an important development for Sizewell B which will ensure we have the ability to continue to store our spent fuel, safely and securely on site for many years to come.
"We recognise that construction project of this size will put pressure on the local road network, so we are investing in road improvements."
The road work will be carried out by Suffolk County Council's Highways Department.