Highpoint Prison praised for 'proactive' drug action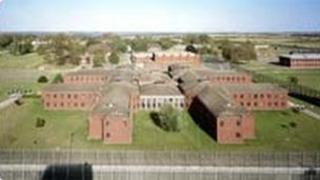 A Suffolk prison has been praised for "proactively" dealing with the threat posed by illegal drugs.
The HM Inspectorate of Prisons made an unannounced inspection of HMP Highpoint two months after it was revealed that cannabis levels had trebled in a year.
Inspectors also said they were "pleased" with staff-prisoner relationships and that inmates obtained "useful qualifications" via activities.
But they said it needed to address prisoners' concerns about gangs.
The inspectors described the fears at the 1,300 capacity training prison as "well-founded" and said managers had failed to identify the issue.
'Noticeably poor'
Nick Hardwick, chief inspector of prisons, said Highpoint provided a "generally safe and decent environment" but managers were "unsighted on some areas of concern".
Although the activities were praised, inspectors said there were too few places available and that 15% of prisoners were unemployed.
They remained locked in their cells during the working part of the day.
The prison was also criticised for "noticeably poor" visiting arrangements, which inspectors said made it difficult for the men to maintain contact with their families.
The prison, near Haverhill, was inspected over a five-day period in September.
The National Offender Management Service said it was "pleased" with the report.
Michael Spurr, chief executive officer, said: "The governor will use the recommendations in the report to build on the progress that has already been made and address concerns raised."