Stowmarket The Mix house demolition approved by government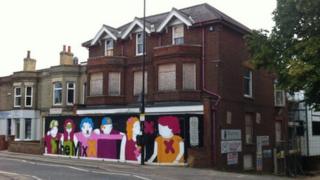 Final approval has been given to demolish a house in a conservation area in Suffolk to make way for a £5m youth centre.
Suffolk County Council is building The Mix on Ipswich Street, Stowmarket, and said the house on the site needs to be replaced.
Although the building is not listed, preservation groups wanted to keep the house, which is in a conservation area.
The government has backed the council and granted approval for demolition.
The council originally wanted to incorporate the house in the youth centre.
However, once work started to the rear of the house in 2011, they said renovating it rather than rebuilding it would add £130,000 to the cost of the project.
The council granted permission for the demolition last year and the secretary of state for communities and local government has now given the final approval.
Graham Newman, the council's cabinet member for young people's services, said: "Completing the building's facade will enable us to [rebuild] the premises in a sympathetic and appropriate design as well as maximising the space available."
The council said The Mix should be ready to open in January 2014.