Shottisham's Sorrel Horse community pub shares all sold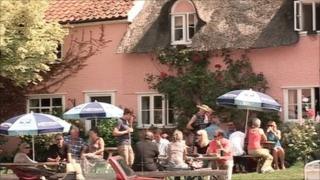 A community group which bought its local pub to save it from development has sold the last of 900 shares in the project - raising £450,000.
The previous owner of The Sorrel Horse in Shottisham, Suffolk intended to sell the pub for housing, prompting local people set up a company to buy it.
Shares were on offer for £500 each and have been bought by about 200 people.
Tony Pinfold, company director, said: "We're delighted and the pub is owned by people who won't let it die."
A group of five local people put in an offer on the pub in Spring 2011, and by August enough people had bought shares in Sorrel Horse Shottisham Ltd to buy it for £350,000.
The final shares have now been sold, which means an initial loan of £50,000, bills for re-thatching and investment costs can be paid off.
'Word-of-mouth'
Mr Pinfold, who lives opposite the pub and works as an accountant in nearby Woodbridge, said the company expects to pay a dividend to shareholders this year, but he would not say for how much.
"A lot of people said they didn't expect to make money, but they didn't want the pub to close," he said.
"Right from the beginning we said this has to got to be a commercial venture.
"It takes a lot of thought, energy and organisation but if you aim to provide quality food, beer and ambience, then word-of-mouth should take care of things."