Ipswich Northern Fringe housing consultation begins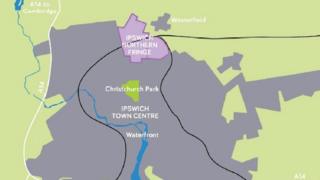 Public consultation is beginning on plans to build 3,500 homes in Suffolk's county town.
Ipswich Borough Council is considering three options for the Northern Fringe development between the town and Westerfield.
The proposed area for development covers 482 acres (195 hectares) while the consultation includes exhibitions and public meetings.
The proposals, which were originally for 4,400 homes, have attracted opposition from the Save Our Country Spaces and Northern Fringe Protection groups.
The first exhibition is at Ipswich Sports Club (12-14 January) with further drop-in sessions at Westerfield Church (23-24 January), Ipswich Town Hall (2-8 February) and Colchester Road Baptist Church (14-15 February).
A public meeting will be held at Northgate Arts Centre on 29 January while the plans are available on the Ipswich Borough Council website.
Responses to the questionnaire should be completed online or posted to the council by 22 February.