Ipswich Town archives to be auctioned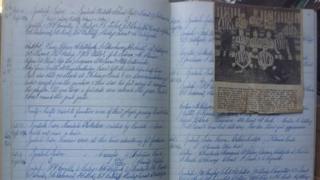 Books detailing the day-to-day activities at Ipswich Town from 1880-1957 are among a rare collection being sold at auction.
Collector Roger Ambrose said he was selling "five trunks" of records which used to belong to John Eastwood, author of the club's official history.
Other lots include player autographs, handbooks, programmes and tickets.
The items are part of a football auction at Stacey's Auctioneers, Rayleigh, Essex, on 11 February.
Mr Ambrose, who said he was a season ticket-holder at Charlton Athletic but regarded Ipswich as his "second team", acquired the collection in 2005.
This Is Your Life
"I am selling them with a certain amount of heartache," he said.
"It's a nice collection and takes you back in time,"
The six books of minutes, said to be rewritten by hand and based on originals, make up the highest valued Ipswich Town lot, with an estimate of £800-£1,000.
Dave Alexander, who arranged the sale on behalf of Mr Ambrose and set the estimates, said the complete collection could sell for "as much as £10,000".
"John Eastwood was the club's historian and wrote several books," he said.
"This is his original collection of documents, they're one-off items.
"One lot has 10,000 press cuttings - it's a vast collection."
Ipswich Town said it was aware of the auction.
Other items for sale include the red book awarded to former England manager Don Revie on This Is Your Life, a completed sticker book from the 1970 World Cup and a full collection of England programmes from 1945-1992.