Ipswich Town's Aaron McLean critical of shopping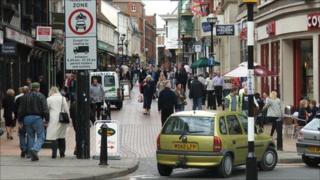 New Ipswich Town signing Aaron McLean has criticised the state of town centre shopping as "rubbish".
The striker, 29, who signed on loan from Hull City last week, wrote on his Twitter account that "to say the shops are dead is an understatement".
David Ellesmere, Labour leader of Ipswich Borough Council, said McLean's comments were "disappointing".
McLean later apologised and said his remarks were no reflection on his commitment to the football club.
'Buzzing to be here'
The striker, who made his debut for Ipswich at Aston Villa in the FA Cup defeat on Saturday, wrote on Twitter: "Just walked round Ipswich shopping centre and to say the shops are dead is an understatement! London it is!!!"
Mr Ellesmere said: "I think that Aaron probably needs to see a little bit more of Ipswich, but perhaps he should be concentrating on his efforts on the pitch.
"Ipswich town centre, like town centres all over the country, is suffering because of the poor state of the economy.
"We've just introduced new car parking deals, we spent money on improved Christmas lights which increased footfall, we're looking at ways of improving the Cornhill and linking up the town centre and waterfront, so there are lots of plans in place to make the town centre better."
McLean later wrote on Twitter: "Listen anyone taken offence to me saying the shops in Ipswich are rubbish I apologise.
"I've been coming to Ipswich for 10 years and my lil sis is from here so it's banta wiv us.
"Please don't take it the wrong way. Club wise it's brilliant and I'm buzzing to be here."