Sizewell nuclear incident plan post Fukushima 'inadequate'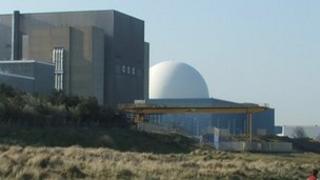 Changes to Suffolk's emergency plan for Sizewell nuclear power station after the Fukushima disaster in Japan have been called "totally inadequate".
Suffolk Resilience Forum, made up of local councils and groups, is reviewing incident plans for nearby residents.
An inner emergency zone is to be extended from 1.5 miles (2.4km) to 2.3 miles (4km) with an outer precautionary area of 9 miles (15km).
Shut Down Sizewell campaigners said the danger zone should be 18 miles (30km).
Schools and people living in the proposed off-site inner emergency area will have access to potassium iodide tablets which are said to give some protection against a leak of radiation from the nuclear plant.
The new extended emergency area would encompass the whole of the town of Leiston and surrounding villages where about 6,500 people live.
In its consultation, the Suffolk Resilience Forum is trying to assure people risks have reduced since Sizewell A was decommissioned in 2006.
'Up for grabs'
Government and the nuclear industry have increased precautionary measures following the earthquake and tsunami in Japan when hundreds of thousands of people had to flee their homes.
Charles Barnett, from the Shut Down Sizewell Campaign, welcomed the review but called the 1.5 mile (4km) radius of danger "totally inadequate".
He said: "The precaution zone should be 18 miles (30km) so that hundreds of thousands of people would be made aware of the dangers.
"Fukushima has demonstrated that nuclear power stations should be closed down as the only safe precaution and we are working towards that.
"We've seen Sizewell A shut down and now we are looking at the B plant but the government has made up its mind to build a C unit which is only going to exacerbate the situation on safety and disposal of waste.
"Everything is up for grabs and a lot more people are beginning to realise the dangers."
The Suffolk Resilience Forum said it realised there was a low awareness of the potential dangers in the local community and would offer shelter, evacuation and potassium iodide to people within the 9 mile (15km) zone.
The forum also admitted it needed to know more about how many people were living within an 18 mile (30km) radius of Sizewell B and their addresses so they could be provided with support in the event of an emergency.
This larger area would stretch to part of Lowestoft in the north and encompass Martlesham and Woodbridge in the south.
Consultation and information documents have been circulated and views are invited from the public up to the closing date of 8 April for publication of a detailed plan in June.
Suffolk County Council said the revised Sizewell off-site emergency plan must take account of developments at the site and changes in national policy and guidance.
Also International Atomic Energy Agency standards were being put into practice.