Council extends closure of Corton path after landslide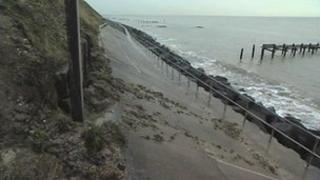 The full stretch of a Suffolk coastal footpath has been closed due to fears people could be injured by landslides.
Part of the Corton prom was closed on Wednesday after a cliff landslip.
Waveney District Council has now decided to close the 1km (0.62 miles) route, from Baker's Score to Cliff House, while the cliff is assessed.
Councillor David Ritchie said a £350,000 scheme to stabilise the cliff would help the "community adapt to the effects of coastal erosion".
The project, which began in November and is due to be finished by early March, will see a drainage system added to the cliff.
The council said this would help the problem of built-up surface water, the result of rainfall, making the cliff unstable.
Mr Ritchie, cabinet member for planning and coastal management, said: "Slippage is one of the greatest concerns in this area, however there are ways to address this problem and this investment is going some way to giving local businesses confidence to develop and update facilities and see a bright future."
The council said the pathway would be reopened when it was "safe to do so".